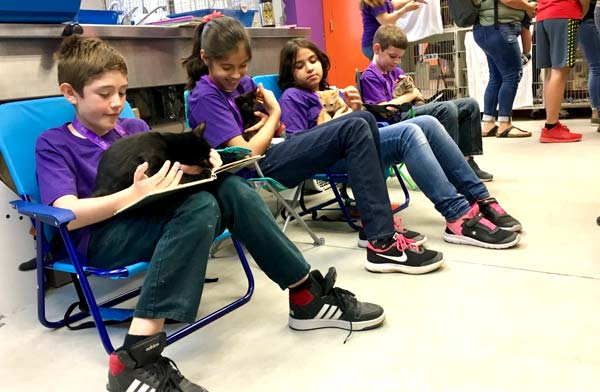 As part of our lifesaving mission and to sustain a no-kill community, we strive to provide humane education, resources, and outreach to members of the community for all ages. El Paso Animal Services believes that educating and providing the right information to the community is key to ensuring pets are safe, happy and healthy in the community and at the center.
Presentations

Career Days / Career Fairs

Health Fairs

Community Fairs

Humane Education

Bite Prevention

Youth Programs
If you're interested in having El Paso Animal Services present at your school, organization or to participate in an event, contact us at epasoutreach@elpasotexas.gov or fill out the request form below. Submitting this form does not confirm Animal Services attendance, but we will be in touch with you regarding scheduling. 
During the pandemic, we have adapted our programming to help keep everyone safe! If you're an educator, an organization leader or a parent and you're interested in coordinating with our Education team on virtual camps and classes, email us at EPASOutreach@elpasotexas.gov.
OTHER HUMANE EDUCATION PROGRAMS
Our Education program also provides a fun and dynamic way of learning to promote knowledge, understanding, skills, attitudes and values related to human involvement in the lives of animals through various workshops, camps, tours and programs for all ages. To register yourself, a group or organization, or your child for one of these programs, visit one of the pages below. 
NEW! CHECK OUT OUR VIRTUAL LEARNING LIBRARY
Find storytimes, humane education book recommendations, activity pages, career day presentations, at-home projects and more on our Virtual Learning Library. 
Education & Outreach Request Form Baby Boy
The Magic of a Microchip
Baby Boy was a sweet, senior pitbull that was brought to the center by a member of the community—he had no collar or name tag and was presumed to be a lost pet. With hundreds of pets coming in every week, it's fairly often that a pet comes in without a collar, and usually doesn't have a microchip either, but our intake team scans all pets anyway, just to be on the safe side. To our surprise, Baby Boy DID have a microchip, with contact information on file, and his family were eager to come and pick him up. Baby Boy was actually lost for almost 7 years and it was all thanks to his microchip that he was able to find his way to his true home. Microchipping your pets is one of the greatest ways to help make sure your pet finds their way home if ever lost, and always make sure your contact is updated. If your pet is in need of a microchip, you can schedule an appointment with our Low-Cost Clinic here.