COMMUNITY CATS VS. FERAL:
Community Cat
A "Community Cat" is an umbrella definition that includes any outdoor, free roaming cat. These cats may be "Feral" (un-socialized) or friendly, or may have been born into the wild.
Feral Cat
A "feral" cat is genetically the same as a domestic. But feral cats are no longer socialized to humans. They have learned to live outdoors or in environments with little human contact. They are not social to humans and tend to retreat or avoid human contact if approached.

Why do they have tipped ears?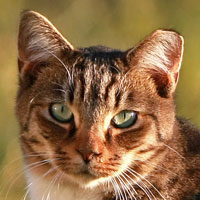 Ear-tipping is an effective and universally accepted method to identify a spayed or neutered and vaccinated community cat. This is done while the cat is anesthetized for spay/neuter and healing is rapid.
The ear tip helps the community quickly identify that the cat is sterilized (cannot reproduce). It is difficult to get close to feral cats, and therefore the identification must be visible from a distance. Community cats may interact with a variety of caregivers, veterinarians, and animal control personnel during their lives and so immediate visual identification is necessary to prevent an unnecessary second trapping and surgery.

Why It Works
Evidence and history has proven that previous approaches to community cats involving trapping and euthanasia are not effective population control methods. The remaining few cats will breed, and in some cases over-breed to replace the missing cats or cats from neighboring areas will move in.

Since cats are territorial, simply removing cats will only open up the area for a new colony to move in.

Community cat caregivers provide day-to-day care and monitoring of the colony so that newcomers can be quickly trapped and sterilized.

The negative impact of the cats is greatly reduced simply by spaying/neutering and is further reduced as the number of cats decreases. Neutered cats make less noise and fight less. In addition, late-night howling is reduced, spraying is reduced, and unwanted litters are prevented.

The cats did not choose to be wild but were simply born in to this environment. Once feral cats arrive at shelter there are few options for them as they are not friendly, cuddly companions. The Community Cat program provides these cats a chance to live out their natural lives in a healthy manner while also reducing the overall population.

What if I don't want cats in my neighborhood?
Community cats already exist in our community, and Trap-Neuter-Return is the only effective way to reduce the population. Our community tried trap-and-eliminate for decades without success, as this often creates a "vacuum effect," encouraging more cats to come into the neighborhood or community. Adopting Trap-Neuter-Return is the best way to reduce the number of community cats, save taxpayers money, and improve conditions at the Animal Services Center. It also helps save lives as one of the most vulnerable populations in the shelter are young kittens—so when community cats are spay/neutered, unwanted or unexpected litters will reduce around the region.
There are also simple but effective steps that can be taken to deter cats from your property – like spreading used coffee grounds around your property. Commercial products are available, as well. Cat caregivers can supply helpful advice and specific recommendations if you have a problem on your property. For more tips, visit Alley Cats Allies Baby Boy
The Magic of a Microchip
Baby Boy was a sweet, senior pitbull that was brought to the center by a member of the community—he had no collar or name tag and was presumed to be a lost pet. With hundreds of pets coming in every week, it's fairly often that a pet comes in without a collar, and usually doesn't have a microchip either, but our intake team scans all pets anyway, just to be on the safe side. To our surprise, Baby Boy DID have a microchip, with contact information on file, and his family were eager to come and pick him up. Baby Boy was actually lost for almost 7 years and it was all thanks to his microchip that he was able to find his way to his true home. Microchipping your pets is one of the greatest ways to help make sure your pet finds their way home if ever lost, and always make sure your contact is updated. If your pet is in need of a microchip, you can schedule an appointment with our Low-Cost Clinic here.