The El Paso Animal Services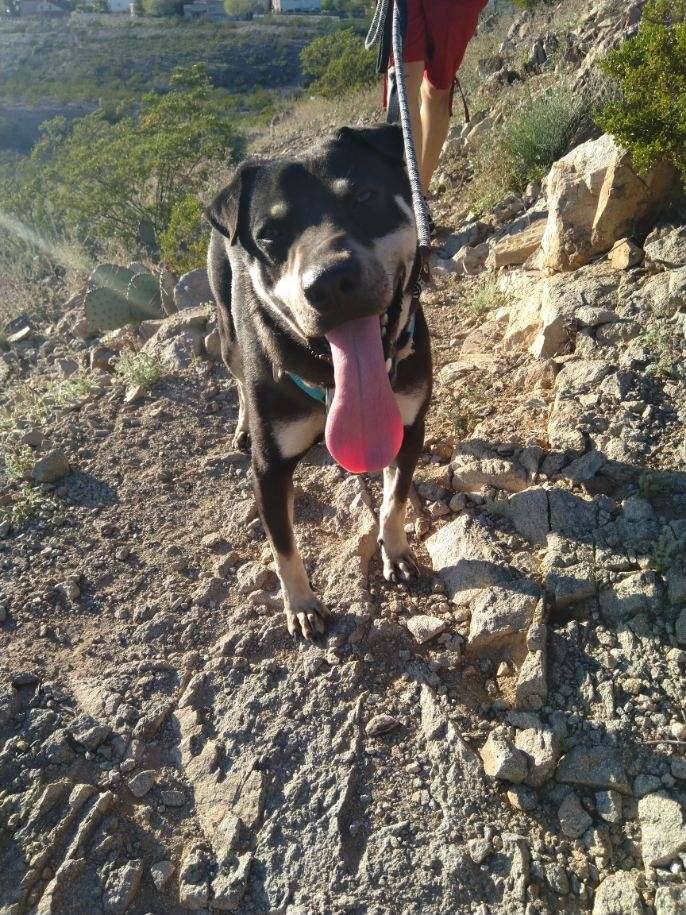 Foster Program asks community members to open their doors to our animals. Fostering is one of the most important ways you can help the animals of EPAS. By providing our temporary residents shelter in your home, you will help save lives and keeps families together.
WHY SHOULD YOU FOSTER?
Each animal fostered out to a home opens up a kennel space for us to save another animal.

Fostering can provide the unique, individualized attention that some special needs animals require before they're ready for adoption.

Fostering has a direct, positive impact on the animal and is a very rewarding experience for those who choose to become caregivers.

El Paso Animal Services provides caregivers with everything you need—food, supplies (as available) and medical care.
FOSTER REQUIREMENTS
Valid identification (i.e. Military ID, Driver's License, etc.).

Completed foster application (either in person or online.)

Live in the El Paso county

It's *highly* recommended for resident pets to be up-to-date on rabies, distemper/parvo, and bordetella vaccines. 
To get started, first fill out the foster application below:
WANT TO HELP MORE?
Please consider supporting our lifesaving Foster Program by donating much-needed supplies for our fosters. Our Foster Program runs strictly on donations, so we are always in need of supplies of dog and cat food, crates and kennels, dog and cat toys, puppy pads and more. You can bring in-kind donations to the El Paso Animal Services Center, or by conveniently donating from the comfort of your home from our Amazon Wishlist.
Frequently Asked Questions about Fostering
What is fostering?
Fostering is providing a temporary home to a pet, or pets, in need. 

How long do I foster for?
It can vary on the pet(s) that you take, but usually it's only for a 2 to 8 week period. During the COVID-19 situation, we are asking families to commit to at least a 2-4 week period, with the option to extend the foster contract if needed. 

How much will it cost me?
Fostering is completely free! We provide the food, supplies (as available, supplies are donated), and medical care you'll need to help care for your pet.  

My foster contract is ending, but I still want to keep my foster pet
Most foster contracts have an end date, but that doesn't mean you have to bring your pet back—we'd actually rather have them stay in a foster home rather than come back to the shelter until they find their forever home! If you'd like to extend your foster contract, just email us at epasfoster@elpasotexas.gov. 

My foster pet isn't doing well at home, what do I do?
If you just took your foster home and it's only been a couple of hours/days, this is common! Shelter stress is very real and can make pets anxious—expect that your pet might be very energetic, have accidents inside the house and be irritable the first few days. Be patient, it will get better. Check out the resources toward the bottom of this page on Decompression, and take our Foster Dog Orientation for more tips on helping your pet adapt to their home environment. 

I'm having some behavior issues with my foster pet, what do I do?
We have a team of Training & Enrichment Coordinators here at the shelter ready to help and available to all fosters at no cost! If you need training tips or advice for your pet, reach out to our foster coordinator at epasfoster@elpasotexas.gov so they can put you in contact with them.

I need to cancel my foster contract
We ask that if you need to cancel your foster contract for any reason, to please schedule an appointment to do so and fill out the questionnaire. The time your foster pet spent at home gives us a great resource of information to help that pet find a good match. Our Population Management team also needs to make sure we have space for the pet to come back to the shelter, or we can also try to work on lining up another foster home for the pet rather than them coming back at all. You can schedule the appointment to cancel your foster online here. 

Can I earn community service hours for fostering?
Yes! Fostering a pet or pets can earn you between 20-40 hours, depending on the length of the foster term and the type of pet(s). Let our foster team know you're needing community service hours when during your foster counseling session. 

What should I expect when fostering?
Sometimes, you might be taking in pets that are potentially sick, or recovering from injury or illness. Foster pets are still shelter pets, meaning more often than not, we do not have their medical background. Because of this, we always encourage you to make sure your current pets are up-to-date on core vaccines, and keep your fosters separated, either in a spare room or bathroom, for at least a few weeks.

I have dogs/cats at home, can I still foster?
Of course! The majority of our foster families also have pets of their own. Just let our foster team know what kind of pet(s) you have so we can help you find a good match, but also be prepared to separate your foster pet for a few days/weeks while they decompress* from the shelter. There is more on decompression on our Dog Foster Orientation.  Also, be sure to check out the information toward the bottom of this page on how to introduce your foster pet to your resident pets successfully. 

I'm not sure how to care for this pet, but still want to foster.
We'll walk you through the process! We also have various trainings and resources on this page that will help you become a foster superhero. 
Can I adopt my foster pet?
Yes! If you're interested in adopting your foster pet, please let our foster coordinator know as soon as possible and they can advise you on the adoption process. If you weren't planning on adopting your foster pet at the beginning of your foster contract, but changed your mind, please let us know as soon as possible so we can help you with the process and let any other potential adopters interested know. 

Can I help find homes for my foster pet?
Yes! The goal of our foster program is to encourage and empower you to find adopters for your foster pets. Our goal is to keep pets out of the shelter completely, and if you're able to find your foster pet their forever home, that would save them from having to come back to a kennel! Ask our foster coordinator on how you can become an Adoption Ambassador for your foster and help them find loving forever homes.

Someone is interested in adopting my foster pet, what do I do?
Collect the potential adopter's name, address, phone number and email, and email it to our foster team at epasfoster@elpasotexas.gov so our team can help facilitate the adoption. Pets cannot be adopted until they are spayed or neutered, but if they have not received their surgery yet, we can still transfer the foster contract to the future adopter. 

How much is it to adopt?
Adoption fees are $30 for dogs, $5 for cats, but we often host adoption promotions as well. 
My foster pet is coughing
Kennel cough is very common in shelters, and is like a common cold and treaded with medication. Please schedule an appointment by reaching out to our foster team at EPASfoster@elpasotexas.gov or (915) 212-8732. 

My foster pet is sick, what do I do?
If it is an emergency (seizing, bloody diarrhea, not eating, regular vomiting), and it is after hours, please call our foster team at Valentin: (915) 478-7527 or Kyla (915) 478-8876. If it is not emergent and can wait until the following day, please schedule an appointment to see our medical team by reaching out to our foster team at EPASfoster@elpasotexas.gov or (915) 212-8732. 

Can I take my foster to my personal vet?
You can, however we will not be able to reimburse you for any expenses that may occur, which is why we strongly encourage scheduling appointments with our medical team.

My foster Pet needs to be Spayed/Neutered
Your foster pet will be scheduled for surgery as soon as a surgery slot is available. If someone is interested in adopting your foster pet, please let our foster coordinator know. If you believe your foster pet is experiencing medical issues due to them not being altered, please alert our foster team. 

My foster pet is due for vaccines
You can bring your foster pet in for vaccines any time during normal business hours. 

My foster has another medical issue (Ticks, Fleas, Allergies, Ringworm)
Please contact the foster team at EPASfoster@elpasotexas.gov or (915) 212-8732.
How can I help my Foster Pet find a Forever home?
By fostering a pet, you're getting a behind-the-scenes look at how well they do at home, what kind of family would be best, and what makes them the most happiest. These are great tools to use to help them find a home! We have some great resources and links toward the bottom of this page, but some ways you can get started is by: 
Take photos and videos of your foster pet that show their true personality

Post your photos on social media pages, Nextdoor app, and our Foster Facebook Group—be sure to tag us!

Make them their own social media pages!

Make flyers and hang them up at pet food stores, veterinary offices, grooming salons

Share your photos and videos with our Marketing team to epascontent@elpasotexas.gov
We are also working on some online training, tutorials and templates to help you, so stay tuned!