Found Pet Resources
Did you find a pet? We are here to help!
In an effort to save more pet lives, our goal is to keep lost pets in their communities—when pets are brought to the shelter, only about 16% of them are ever reclaimed by their families. Pets have a higher chance of finding their families if they are fostered and reunited right in their community. We're here to help you do that!
If you find a pet and are able to hang onto them, please fill out a Found Pet Report below. This report will be added to our database and our Pet Finder Map. Please provide a microchip number or tag number (if they have one) and photo with the report. You can find free scanning locations below. 
Please continue to read through this page for more information and resources available to help you care for the found pet. If you have found a stray cat, please visit our Community Cats page for more information.
FOUND PET SERVICES
(915) 212-8715

Community & Pet Support Helpline
Seven Days a Week, 11 am – 5 pm

EPASFoundPets@elpasotexas.gov

To request found pet support or supplies
EL PASO ANIMAL SERVICES CENTER
PET FINDER MAP
Your Found Pet Report will be viewable on this interactive map. Check the Lost Pets tab on the Pet Finder Map to view animals lost in your area. If one matches the animal you found, contact us at (915) 212-8715 for assistance. 
HOW TO USE THE PET FINDER MAP
FIRST, SCAN THEM FOR A MICROCHIP
Take the pet to a microchip scanning location—there's one probably right in your neigborhood!
Visit our Pet Finder Map for available scanning locations in your neighborhood. 
There are numerous microchip databases. If the pet is microchipped, we recommend doing the following:
Search the microchip number on the AHAA Microchip Lookup Tool and contact the microchip company to let them know you found the pet
File a Found Report on 24PetWatch.

Call 311 to have dispatchers search local databases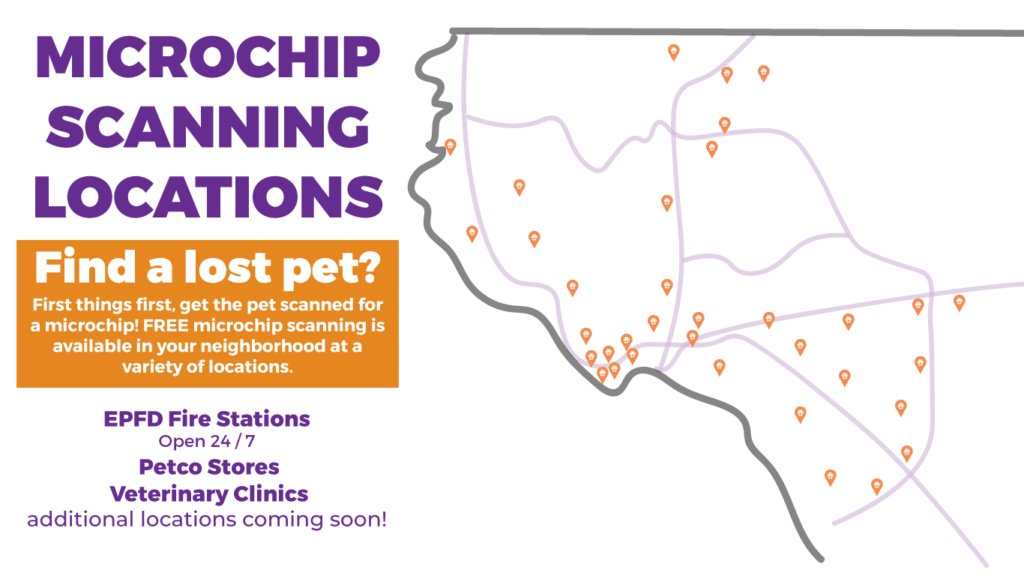 FOUND PET RESOURCES
If you're able to hang onto the pet for a few days, reach out to our Community and Pet Support Team for supplies and information to help in your search for the pet's family. Here are some more ways to aid in your search—we recommend posting on as many social media groups, lost pet apps and hang flyers, as the more places you're able to share the pet's image, the higher chance they will find their family.
WAYS YOU CAN HELP REUNITE A PET
Knock on a few doors in the area where you found the pet to see if they recognize them

Check the LOST PETS tab on the Pet Finder Map to see if a lost pet matches the pet you found
File a Found Pet report on Petco Love Lost
Post on social media pages, Pawboost, Craigslist and the Nextdoor app

Call the pet's microchip company and let them know you've found the pet

Hang flyers in your neighborhood, at grooming salons, pet stores and veterinarian offices

Post flyers in your neighborhood

Check with other area animal shelters and rescues
FOUND PET FLYER TEMPLATE
Download this found pet flyer template to add a clear, full-body photo of the found pet along with your contact information. We recommend hanging flyers at grooming salons, veterinary offices, pet stores and around your neighborhood. 
HELP MORE FOUND PETS
If you're able to hang onto the pet you found temporarily, we are able to help you with care for that pet with supplies and resources through our Finder-to-Foster program. We rely on community members like you to help provide the best lifesaving options for pets that come into our care. You can make a difference by becoming a Finder-to-Foster today!
What's involved in being a Finder-to-Foster?
You agree to become a temporary foster parent and keep and care for the animal in your home for at least six days.
We'll intake the animal into the shelter's system, vaccinate them, take a picture of the animal and put that picture on our website and Pet Finder Map.
We'll provide a foster starter kit that includes key pet care supplies. You also will receive foster support through our

Foster

program. 

As a Finder-to-Foster, we ask that you post the pet on social media pages and some of the other sites provided above. 

If we are able to locate the owner during the six-day foster period, we will set up a time for you to bring the animal back to the shelter for their reunion.

If the six days have passed and we have not been successful in finding an owner, you can decide to continue fostering the pet and become an official part of our

Foster Program

, return the pet to the shelter, or adopt the pet. If you would like to adopt the pet, please email

epasadoptions@elpasotexas.gov

. Let the shelter know as soon as possible. If you're able to extend your foster time, please let our Foster team know by emailing epasfoster@elpasotexas.gov.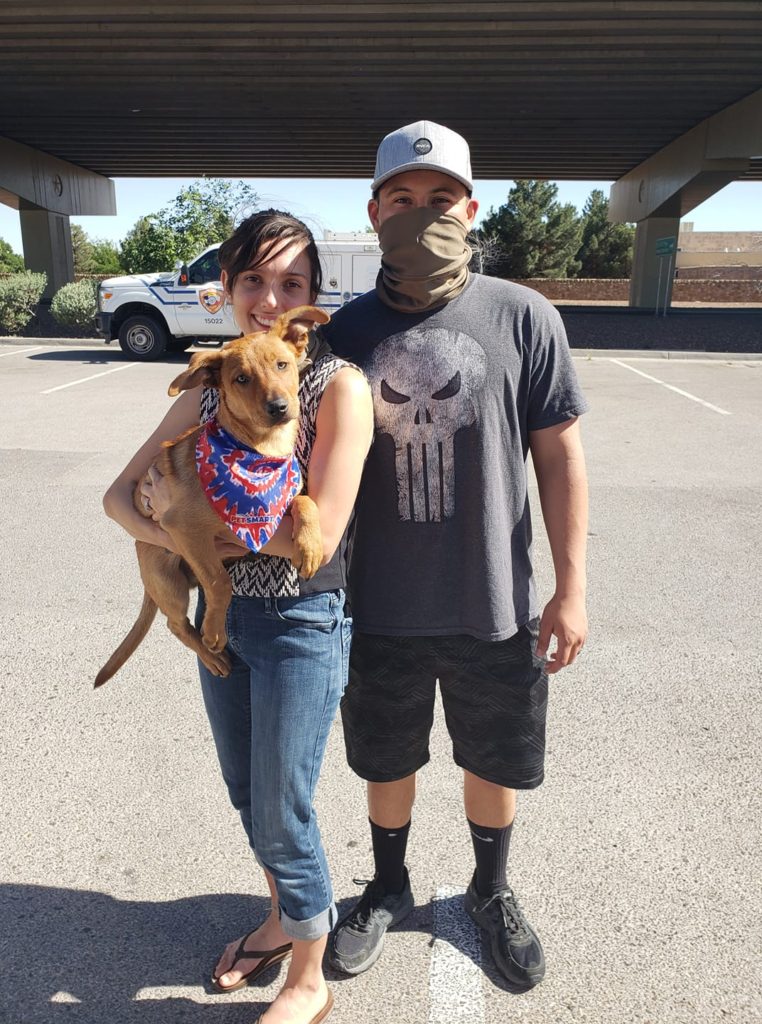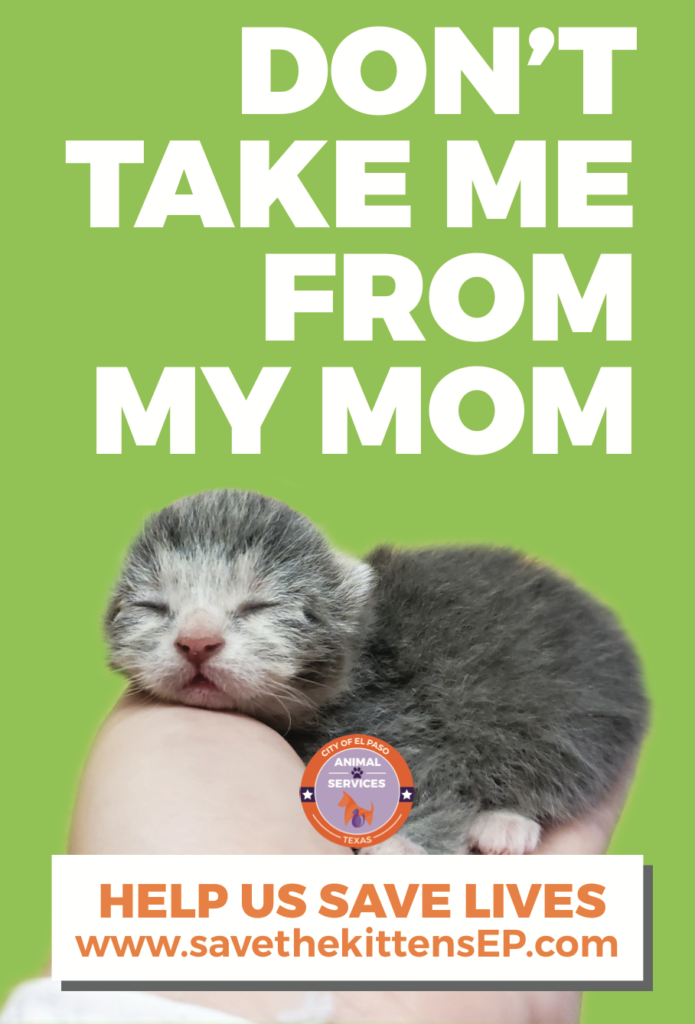 STRAY CATS
If the cat has a tipped ear (a corner of their ear is clipped off), this cat is not a stray but a Community Cat and is already fixed, vaccinated and being cared for by a cat colony manager. 

If the cat does not have a tipped ear, please visit our Community Cats page to schedule an appointment for spay/neuter before you trap the cat.
KITTENS
If you find a litter of kittens, DON'T pick them up and leave them where you found them. While you may think they are abandoned and in danger, momma cat is actually caring for them and either watching them from a distance, or is out hunting for food. A kitten's best chance at survival is staying with mom, so the best thing you can do for them is to leave them alone. For more information on what to do if you find kittens, visit www.SaveTheKittensEP.com. Kittens 8 weeks or older can go through our Community Cat program. 
NOTE: If kittens are sick, lethargic, dirty and cold to the touch, then you can intervene. If you can foster the kittens, please reach out to our Community Resources team for foster support and supplies. If you are unable to care for the kittens, please call 311 or schedule an appointment to bring in kittens with no mom.