Innovative Lost & Found Pet Map to Make Search for Lost Pets Easier
EL PASO, Texas – Animal Services and the Department of Information Technology have recently come together to create a unique community tool aimed at helping lost pets find their way home. The Interactive Pet Finder Map lists the location of found and lost pets on an easy-to-use webpage and mobile EP311 app. The new resource is expected to increase the number of pets reclaimed by their owners, while also preventing the need for pets to be taken to the shelter before being reunited.
The Pet Finder Map will display where shelter animals were found in each area of the city, making it easy for residents to navigate a search of their lost pet. In addition, owners who file a lost pet report by calling 311 will have their pets posted on the map as well. The dual function of the map will help both owners and finders on their efforts to reconnect lost pets.
"Every nose counts, especially as El Paso gets closer to becoming a 'no-kill' community," said Paula Powell, Animal Services Director. "By keeping pets in their homes and out of the shelter, we will be able to better manage our current shelter population, which will result in more lives being saved."
"We are proud to know that the Pet Finder Map will be helping residents who are helping animals," said Enrique Martinez, Information Technology Director. "Animal Services presented us with this idea, and through our collaboration, we were able to design and bring this idea to fruition."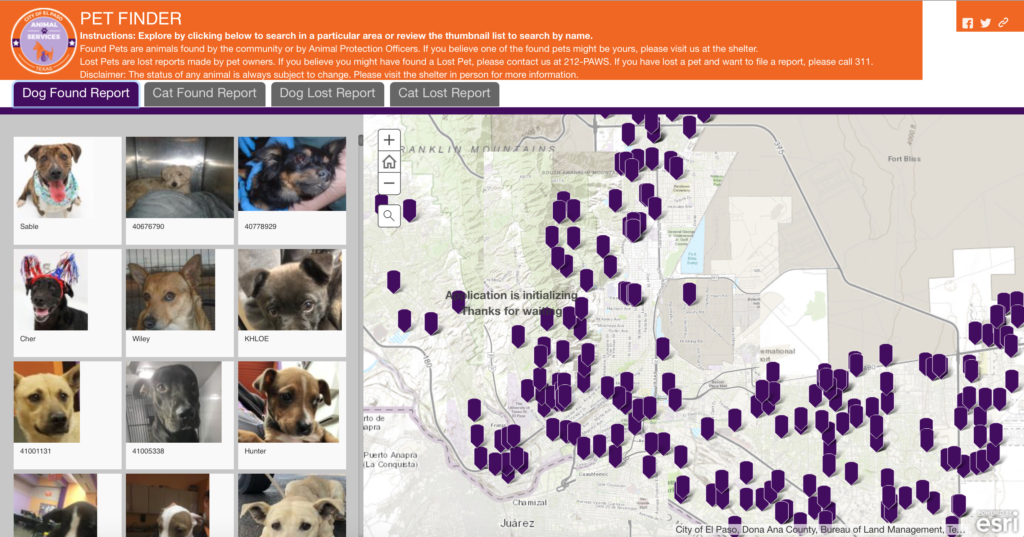 The Pet Finder Map can be found on the Animal Services webpage atwww.elpasoanimalservices.org, or on the EP311 app, which is available for download on Apple and Android devices.
NOTE: While the Pet Finder Map is just another great tool in helping reunite lost pets with their families, it's always strongly suggested to check the "Find My Pet" listing on the Animal Services website (www.elpasoanimalservices.org) and visit the shelter daily to see if your lost pet has been found.