Support Our Lifesaving Mission!
Your generosity helps provide much-needed items for our shelter pets like blankets and toys, and helps fund additional resources such as medical care and equipment.
Your financial support provides medicine, veterinary care, vaccines, food, and resources to help us save a record number of pets who have nowhere else to turn and to help keep pets and their people together.
Please support thousands of local pets from right here in El Paso that need our help by giving a tax-deductible donation to El Paso Animal Services. Together, you can help us lead the way in creating a compassionate, safe community for pets and people in our community.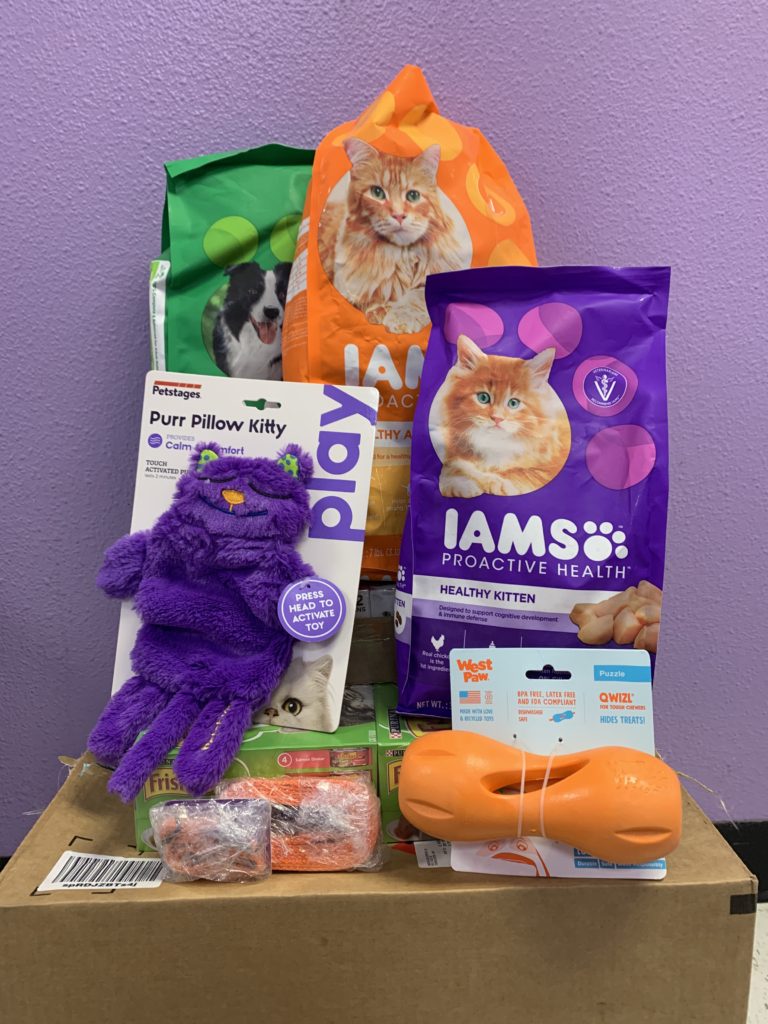 Friends of EPAS
Your tax-deductible donation, small or large, will be used to help save the lives of the pets in our shelter and our community!

Cuddly
Donate directly to one of our lifesaving programs, such as our foster program, Pet Resources and our enrichment program!
IN-KIND DONATIONS
Consider supporting our life-saving mission by donating much-needed items for our shelter pets. With hundreds of pets in our care at the Animal Services Center, and hundreds more in foster homes, we go through many supplies. Items we are always in need of and can be dropped off at the Animal Care Center anytime are:
Blankets & Towels (new or gently used)

Adult Dog Food (Science Diet, Pedigree, Iams, Purina)

Puppy Pads

Puppy Powdered Formula (Esbilac Brand)

Crates and Kennels of All Sizes

Wet Kitten Food (Pate Style)

Kitten Powdered Formula (Breeder's Edge or KMR Brand)

Newspapers

Dog Treats and Rawhides

Stainless Steel Bowls
START A DONATION DRIVE
Want to host a donation drive at your school, business or organization? Visit a list of needed items HERE to share with your team! Once your donation drive is over, reach out to us at donatetoepas@elpasotexas.gov to schedule drop-off.
You can also host a VIRTUAL donation drive with our partners, Cuddly! Just fill out the form below and be sure to select El Paso Animal Services as the Cuddly Partner!
SHOP OUR MERCH
Show your love for shelter pets on your sleeve! All proceeds from our merchandise will go toward lifesaving programs at El Paso Animal Services.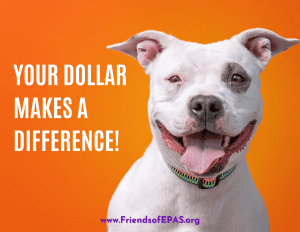 ABOUT FRIENDS OF EPAS
Friends of El Paso Animal Services strives to find and keep pets in loving homes. To make El Paso a no-kill community, Friends of EPAS knows that the shelter would need tremendous philanthropic support to reach and sustain this lifesaving goal. Friends of EPAS is a foundation supported by the El Paso Community Foundation to bridge the gap between the city shelter and the animals in its care, providing innovative programs to help the shelter and the almost 20,000 animals that they care for every year. It CAN be done with your help!
Your tax-deductible donation, small or large, will be used to help save the lives of pets in need; whether it's to help pay for a medical procedure, provide supplies to a foster, or enhance a lifesaving program as we continue to strive toward making El Paso a no-kill community.