Volunteer at El Paso Animal Services
El Paso Animal Services could not provide such outstanding care for our animals without the help of our volunteers. Providing love, care and attention to the 17,000 animals that come into the center every year is no small feat! Our Volunteers are involved in various aspects of the shelter – providing hands-on care and attention to the shelter animals, helping keep the shelter and kennels clean, participating in events, and many other essential activities.
There are many ways for you to join our lifesaving volunteer team. Whether you're part of a group looking for a one-time opportunity, looking for community service hours for high school or college, or a member of the community that can volunteer an hour here and there or regularly, we have a place for you at El Paso Animal Services.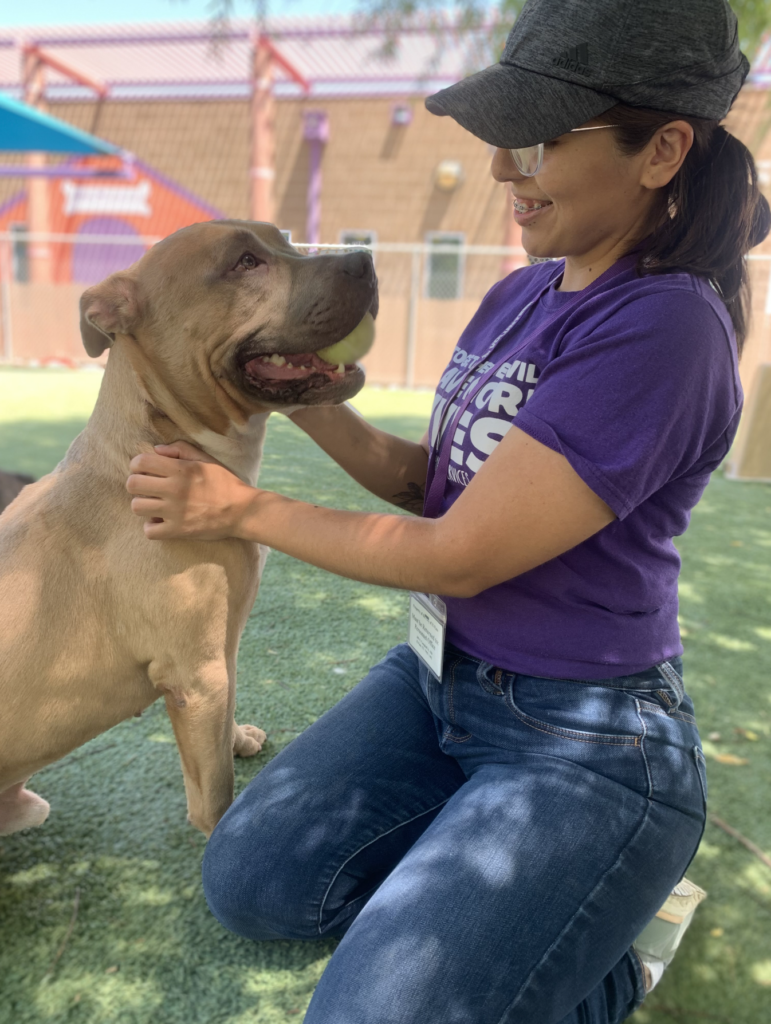 Shelter Volunteer

Assist the various lifesaving programs at the El Paso Animal Services Center. This can include various activities to include: data entry, dog walking, enrichment, training, customer service and more. This opportunity is for ages 14 years and older.

Group Volunteering

Are you a part of a organization, group or business that would like to volunteer as a group? We have a great opportunity to volunteer together! Duties can include shelter beautification, outdoor or landscaping projects, or pet enrichment. Group volunteering is available for ages 18+.

Kitty Reading Book Club

For ages 8-13 and their parents or guardians, come read to and care for our cats and kittens waiting for adoption! This opportunity is available at both the Shelter location, and our Cats At The Zoo location. 

Volunteer Internships

Want to gain experience in specialty areas for internships or externships? We offer job shadowing and hands-on experience for resume building in areas such as Marketing/PR, animal medicine, animal behavior and education. 
Rescue Runners

Spend your Sundays on the Mutt Mile and join our Rescue Runners to run (or walk!) our shelter pets! This is a great opportunity for avid runners or even families that want to provide exercise for our pets. Register for our Rescue Runner Sundays here.

Petco Specialist

Assist in transporting, caring for and cleaning cat condos at our two Petco locations. This opportunity is for ages 18 years+.

Cats At The Zoo

Volunteer at our one-of-a-kind Cats At The Zoo Pet Encounter & Adoption Center. Assist with caring for our adoptable cats, public education and customer service. This opportunity is available for ages 14 years +.

Community Service

If you are looking to earn Community Service Hours for school or court-ordered restitution, you can earn your hours by volunteering at El Paso Animal Services. Email EPASvolunteer@elpasotexas.gov for more information. 
Read more about our available volunteering opportunities here!
Ready to Volunteer?
By submitting an application on our volunteer portal, we will assume you are able to adhere to the Essential Capabilities of our volunteer program. If you are unable to adhere to these physical and cognitive capabilities, please reach out to us directly at epasvolunteer@elpasotexas.gov for other volunteer opportunities.
If you are interested in our Kitty Reading Book Club or Court-Ordered Community Service opportunities, email us at epasvolunteer@elpasotexas.gov directly.
Volunteer Requirements
| AGE | ELIGIBLE POSITIONS | REQUIREMENTS |
| --- | --- | --- |
| 18 years + | All Opportunities | Volunteer Application, Orientation, Associated Trainings, Ability to Pass a Background Check |
| 14-17 years | Shelter Volunteer, Cats At The Zoo, Community Service | Parents must attend volunteer orientation and basic animal handling training |
| 8-13 years | Kitty Reading Book Club, Support Services | Parents/guardians must also become a volunteer and be present at all times |
| Under 8 years | No Eligible Programs | Not Eligible |